Carsten Rindom, you are responsible for quality assurance at Confiserie Bachmann. What exactly does this entail?
Carsten Rindom: Quality is in the eye of the beholder: My job is to look at all products from a customer perspective. On a day-to-day basis, I'm responsible for ensuring defined quality and hygiene standards and, if necessary, adapting or optimising processes and recipes. Writing declarations and costing are also part of the job.
Aren't all processes, recipes and ingredients always the same?
Our raw materials are natural products and can vary depending on the time of year and weather conditions when harvested. Our employees are aware of the challenges we face and adapt production processes accordingly so that customers always receive top-quality products.
Tell us a little about company hygiene.
Hygiene is our top priority. Being a matter of great importance to us, we constantly school our employees in Swiss hygiene regulations and HACCP. We also test weekly samples of raw materials and finished products in an independent food laboratory. In terms of personnel, we strictly ensure that all employees abide by hygiene regulations. While hygiene isn't everything, everything is nothing without hygiene.
What about occupational safety?
This is a key topic. It is important to us that our employees are able to carry out their work in a safe and healthy environment. Although we work with our hands, we are also equipped with the latest and safest state-of-the-art technology.
Declarations and nutritional information are becoming increasingly important to consumers. What is your role in this area?
Our philosophy is to be transparent and natural. This is something we also expect of our suppliers. Raw materials and recipes are examined in detail, enabling us to guarantee to customers that what's written on the label is what's in the product.
Your range also includes organic products. As a customer, can I rely on this declaration?
Yes, 100%! All organic products are manufactured in line with the Swiss Organic Farming Ordinance. In order to achieve certification, random and detailed inspections are carried out by bio.inspecta to ensure all specifications are being interpreted and implemented correctly.
The market is challenging, the product expectations of many of today's customers have changed. Have you experienced this?
Yes, particularly in the case of allergy sufferers, who have very special requirements. There has also been a strong increase in the demand for vegan and vegetarian products. We always make sure we keep up with the latest findings and trends in the food industry. A high level of expertise and a knowledge of raw materials is needed to ensure all of these products are manufactured and labelled correctly.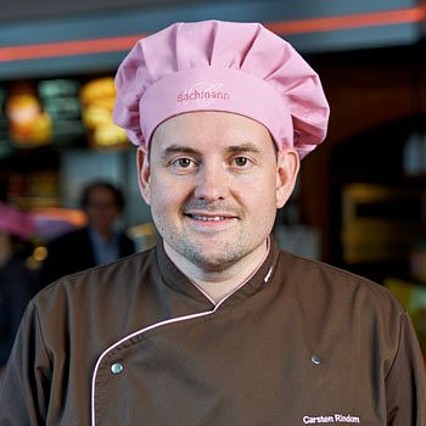 ---
What's so special about original protein bread?
Carsten Rindom: Above all, its unbelievably high protein content compared to other breads. Original "Eiweiss-Abendbrot" contains 26 per cent protein – five times more than regular mixed wheat and rye blends, making it as rich as a steak.
And what makes it so high in protein?
The high-quality blend of wheat, soya and lupin protein. This is also reflected in the price, but original Eiweiss Abendbrot is an absolute premium product.
How much of it is made up of carbohydrates?
No more than seven per cent. Wheat bread is made up of up to 50 per cent carbohydrates.
Why is it called "Abendbrot", or evening bread?
Those wanting to lose weight or following a strict separation diet tend to avoid carbohydrates of an evening. This used to mean having to do without bread in the evenings. Thanks to the original "Eiweiss-Abendbrot", health-conscious consumers can now enjoy bread in the evening with a clear conscience.
How does it work?
By completely avoiding or consuming very little carbohydrates, the body is able to work through the night on breaking down fat cells that otherwise would have been blocked by insulin. It's that simple.