Linked to our various retail outlets, we also run cosy cafes at various locations – the perfect place to sit and enjoy, whether before, during or after a shopping trip. We look forward to your visit!
Take a break from your everyday routine and enjoy breakfast, a lunchtime snack or simply a good cup of coffee and a dessert. Whatever the time of day and whatever your taste, we have a large range of home-made delicacies that people can enjoy on site. Some of the locations even have a terrace – the perfect place to recharge your batteries and relax. Ideal for a bite to eat before or after your shopping trip or if you just need a short break. In our "front cooking" concept we also serve pizzas, pasta dishes with a range of sauces and the popular hot panini. You could also try our chicken nuggets and French fries, which incidentally we only fry with natural and high-grade sunflower oil. For vegetarians and vegans, we also have a range of various tasty vegan salads, muesli and chia puddings. Drinks, pastries, canapés, sandwiches, etc. can be ordered over the counter. Be inspired by our wide and varied range. This helps us serve you faster and shorten your waiting time. And we've thought of the little ones, too. They can go and play in the specially designed children's corner.
"We think we've succeeded when customers feel they have got more than they actually paid for. We want to offer added value and be unique."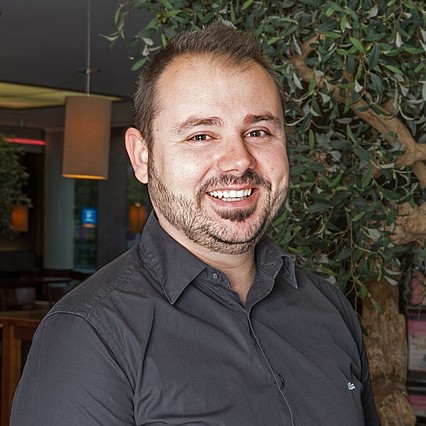 Colouring book
Our small guests are given a colouring book and coloured pencils when they visit a Bachmann cafe so they can draw and solve puzzles.
The colouring book contains a seasonal drawing. Every drawing that is coloured in nicely is awarded a "Bachmännli" and is also entered into a monthly draw for a voucher for Bachmann goods worth CHF 50.