Wir freuen uns mit Ihnen das 120-jährige Jubiläum zu feiern. Gerne senden wir Ihnen dazu unser Jubiläumsmagazin zu. Bitte füllen Sie das untenstehende Formular aus.
Versand nur innerhalb der Schweiz möglich.
Oder blättern Sie online durch unser Jubiläumsmagazin durch.
Für Ihre geschätzte Kundentreue, die vielen Besuche in unseren Fachgeschäften und auf der Webseite bedanken wir uns herzlich.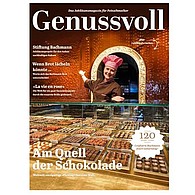 Genussvoll - Das Jubiläumsmagazin für Feinschmecker
In diesem Magazin haben wir einen Streifzug durch unsere 120-jährige Geschichte, Werte, Innovationen und den Menschen dahinter zusammengestellt. Schauen Sie hinein und lassen Sie sich von unserem Familienbetrieb überraschen. So haben Sie die Confiserie Bachmann noch nie erlebt!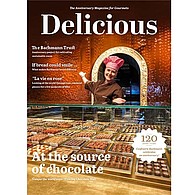 Delicious - Jubilee magazine for gourmets
This magazine takes you on a journey through our 120-year history – take a look inside and you may be surprised at what you find!