Sourcing local ingredients is part of the Confiserie Bachmann philosophy with the exception of cocoa, which only grows on the equator. This is partly sourced from a UTZ-certified agricultural area in Ghana.
Here at Confiserie Bachmann, we have made fair trade our mission
To support sustainable cultivation and biodiversity.
To make a stand against child labour: We believe that children should be in schools and not have to work on cocoa plantations.
To get to know cocoa producers personally whenever we can.
To ensure the utmost quality and fairness the finest cocoa from a sustainable source.
When it comes to raw materials such as cocoa, Confiserie Bachmann places great emphasis on sourcing only the finest produce from fair trade farms. In an effort to ensure that no child labour is involved in harvesting the cocoa fruits, successful entrepreneur Raphael Bachmann set out to see for himself. From 5–10 November 2011, he embarked on a journey to the source of the patisserie's chocolate: Ghana. This trip to the cocoa-growing region in Ghana and the Nana Korkor Daa JHS School funded by the Bachmann Trust has become something of a Bachmann tradition. Dani Weber (production manager), Daniela Vetter (head of purchasing) and Reto Kym (head patissier) also visited the fascinating country. We spoke to Raphael Bachmann about his educational journey, the need to give back to the local community and the role of the Bachmann Trust.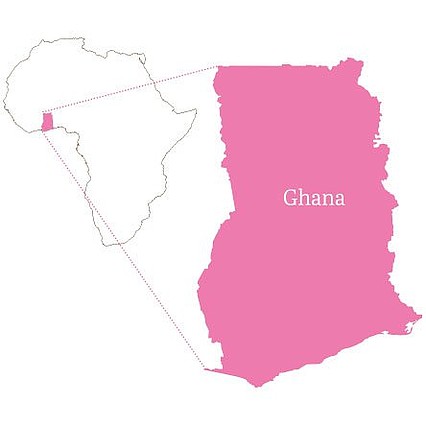 Ghana
Located slightly north of the equator on the African continent, the Republic of Ghana is nearly 5,000 kilometres, or a seven- to eight-hour plane journey, from Switzerland. Its land mass is almost equivalent to that of the United Kingdom, with which it is closely bound by its history as a British colony.
Raphael Bachmann, how did you find Ghana?
Raphael Bachmann: Overwhelming! Ghana is a very impressive and diverse country. While you can see that the country has undergone positive development, the people are still living a very humble and simple existence. Many villages are without electricity or running water despite Ghana being very fertile, which means the most basic and vital fundamentals already exist. Nevertheless, the people of Ghana continue to rely on outside support to ensure ongoing development.
Why did you choose to travel to Ghana?
Most of our chocolate contains cocoa beans from Ghana. Considering only ten per cent of the world's cocoa harvest is of high quality and thus able to meet the high-quality standards of Confiserie Bachmann, it is important that we carefully select our raw materials. Ghana has such high-quality cocoa fruits and is thus the source of creations such as our Luzerner Wasserturm Stein® (Lucerne water tower stone) or melt-in-the-mouth Bachmann pralines. Our "Schutzengeli" (guardian angel) crispy truffles are also rooted in Ghana. A percentage of the proceeds from the sale of our "Schutzengeli" goes into the Bachmann Trust, which helps fund a school project in Ghana, amongst others.
Why are you helping to fund a school project?
Education and training are one of the most basic and effective means of fighting poverty, exploitation and child labour. That is why the Bachmann Trust has been helping fund the Nana Korkor Daa JHS School in Kuram Tumi for the past few years. The school is located near to one of the cocoa farms. As most of the parents whose children attend the school are cocoa farmers, this brings us full circle. Our donations have gone towards building a library and buying computers, for example, which has greatly improved the quality of lessons and enabled the children to be prepared for a better future. This is a realistic aim given the fact that it is possible to erect several buildings in Ghana with only a moderate amount of funding. The funds are placed in a blocked account and controlled and managed by a Ghanaian representative. Only by visiting the location ourselves were we able to establish such an important control network. This would not have been possible from Switzerland.
How do you feel about what you are doing in Ghana?
First and foremost, I am proud that the Bachmann Trust has been able to get such a project off the ground in Ghana. But I am also proud of the fact that every single Swiss franc has been used exactly where it is needed. No administrative costs have been incurred by any organisations. The Bachmann Trust operates purely on an honorary basis. I believe Swiss companies have a duty to fund or at least support humanitarian projects.
How would you sum up your trip?
Ghana is a country with huge potential. In order to tap this potential, the people of Ghana need both our support and fair trade partners. We at Confiserie Bachmann aim to provide them with both, which is why we have to stay on the ball and make use of our established network in Ghana. I'm sure there will be many more trips to Africa to ensure our customers are able to continue to enjoy fine Bachmann chocolate in future, too.