Bachmann Stiftung besucht Ghana
Die Bachmann-Stiftung unterstützt ein Schulprojekt in Ghana, wo unsere Cacaobohnen der Schokolade herkommen. Die Schule wurde aus den Mitteln der Bachmann-Stiftung und der Unterstützung von Callebaut erstellt, dass die Kinder der…
---
SVC Preisträgertreffen 2015
Am 4. November 2015 fand das zweite Preisträgertreffen in der Region Zentralschweiz statt. Gastgeber waren Raphael und Matthias Bachmann, Geschäftsführer der Confiseur Bachmann AG in Luzern. Das Unternehmen hat den Prix SVC Zentralschweiz…
---
Vielen Dank Edith!
Nach 36 Jahren Firmentreue verabschieden wir Edith Keller in den Ruhestand. Vielen Dank Edith für deine Treue. Unser Kunden werden deine immer gut gelaunte und positive Stimme sowie die kompetenten Beratungen vermissen und wir dein…
---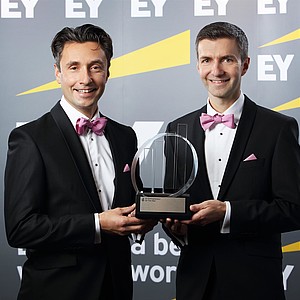 Entrepreneur Of The Year
Am 23. Oktober wurden in den Fernsehstudios tpc/SRF in Zürich die Awards für die besten Schweizer Unternehmer des Jahres 2015 überreicht. Confiseur Bachmann AG nominierte sich unter den drei Finalisten in der Kategorie Family Business.
more
---
La vie en rose
La vie en rose - wo sich das Luzerner Leben abspielt, man sich gerne mit Freunden
und Geschäftspartnern trifft, sich wohl fühlt und die Welt für ein paar Genussmomente
durch die rosarote Brille geniessen darf.
---
Engagement der Bachmann-Stiftung in Ghana
Die Bachmann-Stiftung unterstützt ein Schulprojekt in Ghana, wo unsere Cacaobohnen der Schokolade herkommen. Das Schulgebäude inkl. Bibliothek wurde aus den Mitteln der Bachmann-Stiftung und der Unterstützung von Callebaut erstellt.
---