We are part of the sustainability program Swisstainable and classified at Level I – committed. The sustainability program Swisstainable unites businesses and organizations along the entire Swiss tourism sector. With our participation, we commit ourselves to continuous sustainable business development, pursue measures in the field of sustainability and thus make a concrete contribution to a sustainable Swiss tourism. More about Swisstainable: MySwitzerland.com/Swisstainable.
For over 30 years, we have been working with CAG Cartonnagen AG from Stans – a partnership that we value greatly.
CAG is a Swiss manufacturer of packaging and is responsible for making our cake boxes, amongst others. Short transport routes and local production are important to us and in this respect, CAG optimally meets our needs. Working in partnership with both customers and suppliers, CAG's top priority is to continually improve and develop the company, its products and its services. Quality management also ensures that set objectives are achieved, in order to meet the demands of today's customers. And this we can rely on!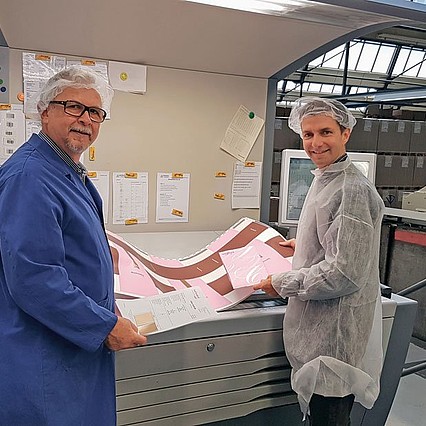 HD-quality printing by our regional partner
Feel the paper between your fingers as you turn the pages of this freshly printed magazine. Be captivated by the vibrant, high-definition images and soak up the sensory stimuli.
This magazine was printed by Abächerli Media AG from Sarnen – our regional partner for printing our materials. A partner that shares our vision of sustainability and our efforts to produce in a way that protects the environment and conserves resources. Thanks to innovative LED offset printing technology, the well-established company from Sarnen produces impressive HD-quality images.