Confiserie Bachmann AG is committed to climate protection. By voluntarily enrolling in the ten-year programme of the Energy Agency of the Swiss Private Sector, Bachmann is actively committing to cutting CO2 emissions and optimising energy efficiency. The corresponding targets agreed upon are audited by the government and aided by the city of Lucerne within the scope of the "energetic optimisation – energy efficiency for businesses" scheme.
A concrete example of our efforts to cut CO2 emissions is our heat recovery system, in which we have invested over one million Swiss francs over the last few years. This complex system uses the waste heat from our ovens and cooling systems to provide DHW (domestic hot water) for 170 households in the city of Lucerne as well as for our entire production site – which incidentally, is heated using the heat recovered. This recovered heat is our contribution to the 2000-watt society in the city of Lucerne.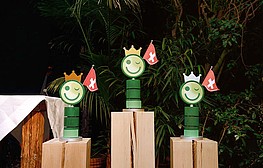 Green Smiley Award
Confiserie Bachmann AG was nominated for the 2012 Green Smiley Award for its "Schutzengeli" and the Bachmann Trust, which has arisen from revenue donated from the sale of these products. The ten finalists chosen by Heineken Switzerland included bars, hotels, cafes and restaurants that have made a lasting contribution to society and the environment.
In November 2011, as part of the "Brewing a Better Future" programme, Heineken Switzerland launched the Green Smiley Award with the aim of actively involving customers in the gastronomy sector in the sustainability efforts of the company.