Often found in the bakery toying with new products, Head of Product Development Else Rindom knows exactly which trends appeal to customers and which experiments are best left alone. The qualified butcher started working for Confiserie Bachmann in 1999 for a very special reason.
Else Rindom, let's start on a very personal note: If you look at the organisational diagram of Confiserie Bachmann, you'll see that the name Rindom appears twice. How's that?
Else Rindom: (smiles) You've done your research. Yes, it's true, my husband works as a production manager. It all comes down to "love" ...
Now I'm really intrigued!
My husband Carsten and I originally come from Denmark. That's where we first met and got to know one another. When he was young and adventurous, Carsten travelled to Switzerland to do an internship here with Confiserie Bachmann. After a few months, I missed him so much that I decided to come to Switzerland too. And shortly thereafter, I started working for the company as well, completing my apprenticeship as a patissier-confiseur.
Although you're actually a qualified butcher.
Yes. But I couldn't imagine going back to working as a butcher now.
And back to Denmark?
That neither. Although my husband and I have actually tried: In 2009 we opened a bakery on the west coast of Denmark and fulfilled our dream of being self-employed. Although the business did well, four years later we decided to pack up again and leave Denmark.
Why?
It was such hard work that we had no time for ourselves. We just agreed it wasn't doable any more. We were all the more happy therefore to be able to return to Confiserie Bachmann in 2013. We're very grateful to the company for this.
You're now in charge of product development. Sounds interesting.
It is! I've got the opportunity to develop new products from scratch. I enjoy this creative aspect of my job the most. Just today, for example, I spent the whole day working on developing new products.
What exactly does that entail?
Basically, as the name suggests: I spend the whole day in the bakery and the kitchen toying with different ingredients and ideas for new products. This involves much more than just the taste. Can the new product be practically wrapped? Will it stay fresh for long enough? Will customers like it? These are all factors for consideration in the development process.
«We all want food that delivers on taste as well as nutrition.»
Can you give me an example of a newly launched product that was particularly popular with customers?
Cupcakes! We also found these were a big seller in Denmark. On introducing the sweet treats into Confiserie Bachmann's range a few years ago, the response from customers was initially rather lukewarm. Today, the cupcakes are an integral part of our range.
So who decides whether a new cupcake will or won't be sold?
Every Tuesday, the management meet to discuss various issues. If there is a new product in the pipeline, I bring it to the meeting and let all those present sample it. If the majority like it, there's a good chance it will be sold.
I wouldn't mind being a part of those meetings. Where do you actually get your inspiration for new products?
I collect ideas everywhere: when shopping, at trade fairs, on holiday or online. Customer feedback is also a great source of inspiration for new ideas.
What sort of things do customers say?
Today's customers often ask for vegan products. Although these will probably never be best-sellers, it's nice to be able to meet customer needs by offering vegan salads and sandwiches for example.
Do you sometimes test "crazy" products with special ingredients, like chocolate with chilli?
Actually, we already have chilli chocolate in our range. I love experimenting with special creations, although customers do tend to prefer the more traditional recipes. There is often little scope for culinary adventure in day-to-day business – but there is always the opportunity for creative innovations. Basically, we all want food that delivers on taste as well as nutrition. Whether exotic or traditional, it all comes down to the taste.
Now I'm intrigued again. Which new products can we look forward to?
Naturally, I'm not going to reveal all here. This much I will tell you: I still have a few ideas up my sleeve.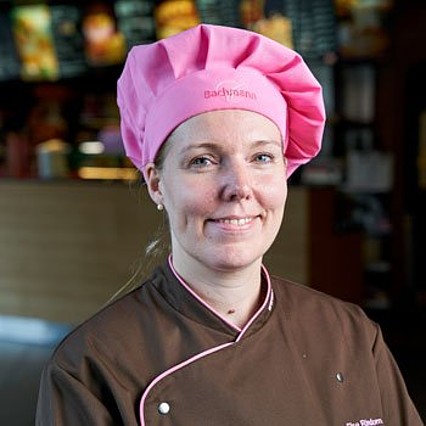 Be inspired by our recipes and prepare our fine Confiserie Bachmann products yourself. Enjoy!