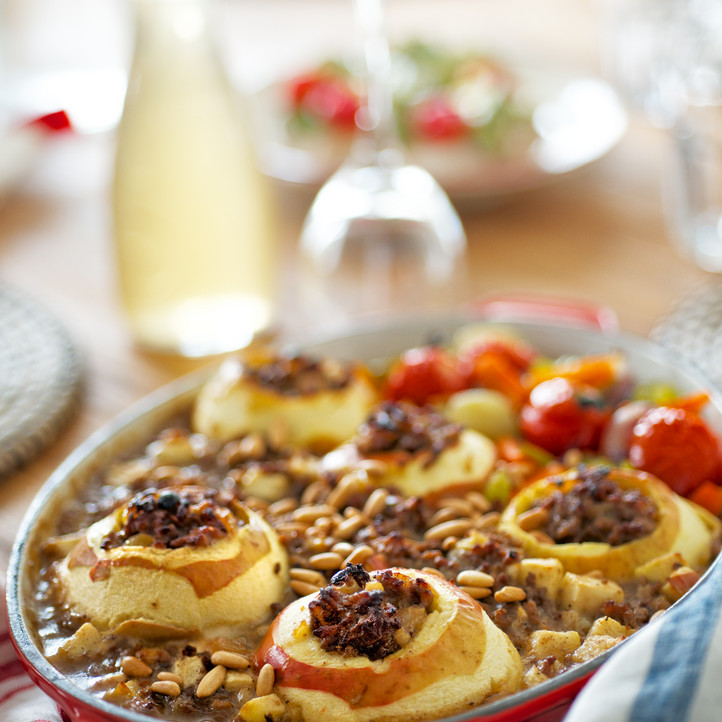 Mehr Informationen
2 tbsp.
clarified butter
450 g
beef, minced
1
onion, chopped
2
garlic cloves, chopped
1 tbsp.
white flour
1 dl
dry white wine
1,5 dl
bouillon
80 g
sultanas
parsley, celery, chives, finely chopped
little paprika, salt, pepper
1/2 tsp.
cinnamon
8
apples (Boskoop)
20 g
pine nuts, roasted
Heat the clarified butter in a frying pan, add the minced meat, brown well. Add and sweat the onion and garlic, besprinkle with flour, stir, deglaze with wine and bouillon, let it simmer. Add the sultanas and herbs, season with paprika, salt, pepper and cinnamon. Wash, core and hollow out the apples, leave a rim of 1,5 cm, place them side by side in a buttered casserole dish. Roughly chop the apple pieces that you removed and add them to the meat, briefly cook. Fill the apples with the meat filling, fill the remaining filling into the casserole dish, if necessary add a little bouillon. Place in the oven at 220 °C for around 20 minutes until the apples are done. Arrange on a plate, besprinkle with pine nuts. Serve e.g. with vegetables, wild rice or amaranth.
---
zurück